26 Nov
by Hyper Fusion
Holiday Hours
The holiday times for Hyper Fusion vary from year to year. Therefore each year as we enter the holiday season, we like to post our Holiday hours.
New Office Hours:  Mon – Friday 10am – 4PM CST
During the dates listed below all of our offices will be closed:
Thanksgiving: November 25 – November 30
Winter Break: December 23 – January 3
Holiday Special
We are offering an incredible special because other providers choose to sell their gear to their customers… If you come from another provider and Hyper Fusion can use your radio, then we will buy your radio from you.
YES! Hyper Fusion will BUY your wireless receiver station, the device that links you to the other provider's wireless network for $300, which covers the activation charge for switching to Hyper Fusion.  All you pay is the first months services plus the sales tax.  Takes about 30 minutes with an onsite appointment.  We will also throw in 30 days of Free On-Demand Streaming (Movies, TV, Music, and Audio-books) in addition.  Something NONE of those other providers even have. (No equipment required to access the On-Demand Content).
Over the last few months, we have come to realize through speaking with new subscribers switching from the other providers and resellers in the area, that they do not deliver the speed and class of service we do.  Hyper Fusion uses a different upstream provider than all local competitors do, even the new 4G LTE providers. Reported speeds are a little higher, but rarely clear over 20 Mbps and drop completely hundreds of times a day.
What makes Hyper Fusion so much better than any other in our class?
Well, our service ACTUALLY hits the speeds we advertise and rarely drops.  We have the lowest ping times out of any provider in our class and service area, and the most stable services for VPN, streaming and Remote Learning, hands down.  Everyone of our latest convertees chose to go with the "other guy" until realizing that Hyper Fusion is the exception to Rural Internet.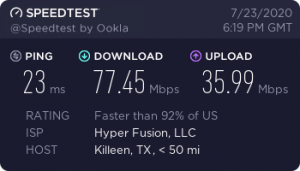 There's a reason why we are an award winning Rural Provider. We are constantly looking for ways to improve our network, subscriber care, and Streaming Media Services.
All you have to do to prove Hyper Fusion is first rate is to run a simple speed test from https://www.speedtest.net   It clearly lists the provider. Not only are the speeds far superior, we are in fact a Genuine Tier 3 Provider, and we hold a genuine AS Number and FCC Licenses. We are a true, purely digital multi-honed (we have 2 totally different fiber internet uplinks that are NOT provided by AT & T or Spectrum) Autonomous System and we are our own network and actively participate in Global Internet Routing.
Hyper Fusion was founded by local folks right in Burnet, TX in 2017 and we remain the ONLY provider who has actually brought NEW internet into the area that was not already there before.  We are often imitated, right down to our gear and equipment choices, but no one can duplicate what Hyper Fusion can do.  Why? Because Hyper Fusion focuses on the community and quality of service and not just making money. Our prices, format, subscriber care, and all facets of our network reflect our strict dedication to giving rural subscribers an alternative to big box data from a network born right where they live.