If you do not live within the map below, do not fret, with all the COVID-19 pandemic, we could be expanding to your area next.  The more requests we get from any particular county, we will look heavily at expanding to your County / State next.  How do you get us out there faster?  Go post on facebook, tell your neighboors, talk about it when your out to it, and tell everyone to come to our website and click that Get service link at the top, or use this handy sign up button below.


Fiber To The Premise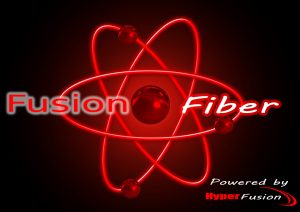 As we continue our expansion to the north and to the south we are getting ready to lay some direct fiber to the home in select neighborhoods. Now that we have a fully trained fiber deployment team and our backbone is live and firing on all cylinders we're going to start direct fiber connecting neighborhoods. If you live in one of the neighborhoods listed, please fill out the HFT Fiber Survey Form and get all your neighbors to fill it out as well.
We are now taking Fusion Fiber signups for in-town City of Burnet subscribers as well as River Place.  River Place is just in the process of rolling out phase 2 of the neighborhood so we figured we'd take that chance to get our fiber in the ground.  Now we're ready to take subscribers in on it.
As spring rolls out for us here in Central Texas we will also begin working on our Chica Ranch backbone fiber network to serve the Chica Ranch neighborhood with Fusion Fiber services.  This will be our biggest roll out to date so if you havn't signed up, or your a live wireless subscriber make sure and fire off a new ticket to billing and we'll get you on the list!  Your not gonna wanna miss out on Fusion Fiber!  Unlock the other provider in Kempner County, we DO NOT call up AT & T and order their fiber, then jack up the price ( which is already 40% more than Hyper Fusion Fiber ) and then call it theirs.  Our fiber network is 100% owned, managed, and operated by us and no one else.
Premiere Service Locations
There are many areas within the Central Texas counties in which we operate which we declare as "Premiere Service Locations".  These are areas with our best services available.  If you leave or want to move to any of them and you live less than 1500 Meters from the center of any of these areas, good chance we can get you Fusion Fiber direct to the home or business.  Our INSANE 100 mbps down and up service available on our Gen6 wireless transmitters at most of our tower sites are listed as Premiere locations too.  Although the super high speed "big city class speeds" are only available in our Premiere service locations, speeds of 75 Mbps and lower are available across over almost every square inch of Burnet and Kempner Counties.
Just CLICK HERE or click the map to search our Premiere Service Locations and check for service today!
Pre-Connected apartment or Rental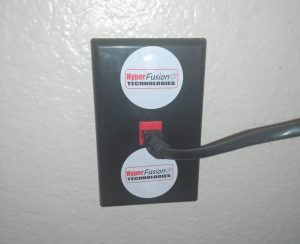 Since we've been connecting more and more rental units and a few apartment complexes and to improve our process and lower activation costs for as many people as possible Hyper Fusion has lower activation fee's for pre-connected rental units and apartment complexes. As we grow out these rentals will will release an online directory of Hyper Fusion pre-connected rental locations.
See one of these wall plates in your apartment or rental unit? Great news, your unit is pre-connected with Hyper Fusion services. All you have to do is all up with your existing wifi router's MAC address or go purchase a new wifi router yourself and we can activate your service instantly over the phone and you can activate your Hyper Fusion account for only $97 instead of our normal $300. Your rental unit MUST have one of these black plates with either a round Hyper Fusion sticker, or the new square ones with our phone number on them.
Because this is a direct ethernet jack and our service is purely digital NO MODEM IS REQUIRED AT ALL.  You can just plug your computer or other hardline device right in and away you go.  Now, most people choose to plug in a wifi router to this and share their circuit of course, which is what we expect everyone to do.  But your free to plug in what ever you like into your port.