What is Equrina Fields Arena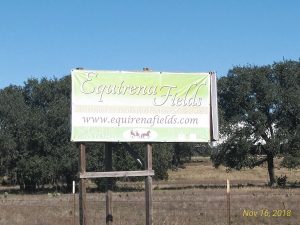 Equirena Fields is a livestock and show arena, driving lessons, training facility for horses, and boasts lots of awesome miniature cattle.   They host rodeo's, live stock shows, have several cabins available for rent for any of your events from weddings, to birthday parties, family reunions and more.  The Equirena Fields arena boasts most then 10,000 sq/ft of covered arena space, 10 RV electric hook up lots, bleacher seating beside the arena, and more.
Website: http://www.equirenafields.com
Phone: (254) 220 - 1460
Address: 9871 North US Hwy 281
Burnet, TX 78611
Where is Equirena Fields Arena Located?
Here is a map, if you travel North from Burnet, it's about 10 miles outside of town.
When you look at the map, the major road on the left is US Highway 281, you can
see the big white arena from the road to your left when traveling north.  The map on
the right shows our HyperNET 5G access points that serve the entire Equirena Fields
arena grounds.
What does it cost?
The HyperNET 5G wireless system operates under the same pricing model as all our other HyperNET hotspots, as well as Hyper Fusion internet customers being able to login with their Fusion Portal username and password to access the fastest possible speeds of our blazing fast 5G wireless network.