Enjoy all the benefits of converting your home, small office, or business into a smart home savings hundreds of dollars on electricity and other un-needed costs with our smart home system.  Combining control of all your Hyper Fusion Tech services into 1 simple system including control of your home.  Our basic Smart Fusion system includes a central control module, 1 door lock, 2 electric in-wall sockets, 2 in-wall light switches, 1 motion sensor and 1 CCTV camera.  Any extra sensors that you may want must be purchased separately.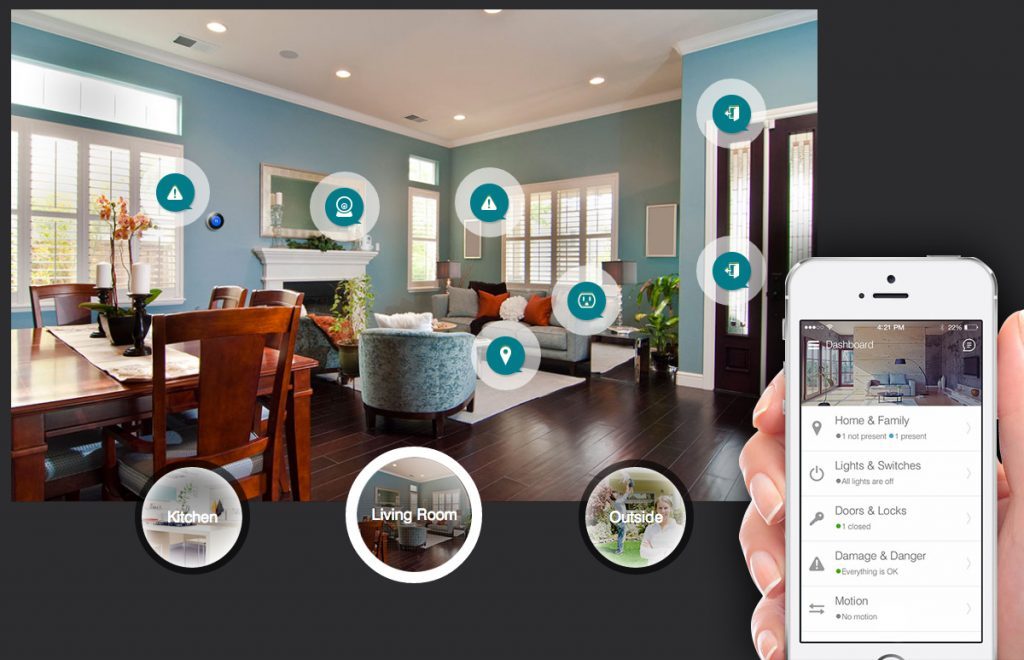 What all can the Smart Fusion system control?  For the most part, the possibilities are probably far too immense to totally list them all. With the devices and sensors we have available you could automate and control with any standard smart phone or computer your dish washing, watering the garden or yard, turn on your home HVAC system for you before you get home from work, let you know when the kids get home from school, and have peace of mind knowing that your Smart Fusion system is not only protecting your home or business, but your family and employees and investments as well.
What have our business customers done?  Well, some of our business customers that have ranches have begun automating their ranch. From feeding livestock, to tending crops, fertilizing, gate control, and others. Some businesses have automated a great variety of business processes saving money on costly labor to do repetitive tasks, and monitoring of property and buildings.
Once installed, all Smart Fusion systems are 100% customer owned and will fully work with all features, with or without our monthly subscription service giving you ease of use and flexibility you want.  Subscription services however do offer discounts on adding sensors in the future, avoid costly on-site service charges for un-scheduled appointments, outages, or other technical issues.  Subscription services also add the benefit of anyone from police, fire, plumbers, electricians, whom ever, to care for your structure while you might be out if an emergency is needed.  Build a list of your approved service professionals or choose from a list of approved vendors for a much better rate.
Basic Starter Kit Starts at $480 for the hardware, install is the same as our internet package of $350 and installation of a basic kit takes approximately 4 hours and our technician will go over basic operation with you.  Any system beyond our basic starter kit are considered customized packages and although the customer must purchase the extra sensors or modules, set up price is included in the cost of the sensor and does not increase your installation set up cost.  If you maintain a subscription for more then 12 months, $150 will be credited back to your account as a loyalty credit.
For Smart Power Products, click HERE.
Below is a complete list of available sensors:
Door Locks
110v In-Wall Electrical Sockets
110v In-Wall Light Switch
110v plugin electric appliance modules
Smoke / Fire Alarms
Carbon Monoxide Detectors
Motion Sensors
Glass Break Sensors
Water / Flood Sensors
CCTV Cameras
Garage Door Openers
Power Stripe / Surge Protectors
Humidity Sensors
Current Sensors
Subscription Plans & Benifits
Subscriptions are not required for the Smart Fusion system to operate or function, nor do we restrict any of its features. Subscriptions are purely optional.  However, to get better rates if you plan on building your system over a period of months, subscriptions are suggested to take advantage of discounts, and new products are offered to active subscribers first.
| | | | | |
| --- | --- | --- | --- | --- |
| Features |   | Silver | Gold | Platinum |
| Monthly Rate |   | $25 | $50 | $75 |
| Monthly Onsite Check-Up |   | No | No | Yes |
| Product Discount |   | 5% | 10% | 15% |
| Emergency & Repair Services Dispatch ( Police, Fire, EMS, Plumber, Electrician, General Home Contracting) |   | (Police, Fire, and EMS Only) | Yes | Yes |
| Protection Plan |   | No | No | Yes |
| Full Monthly Remote System Diagnostic |   | Yes | Yes | Yes |
| Cloud Storage for CCTV |   | 10GB | 50GB | 100GB |
| Monthly Phone Power Consumption Consultation |   | No | No | Yes |