Modern Digital Rural Internet Delivery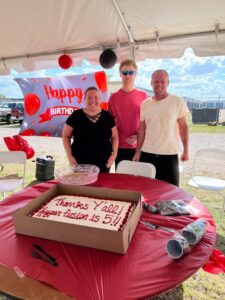 Hyper Fusion started as a seed almost 6 years ago. Chris, Will, I were running a little shop on the square with a small hotspot for people to use while they shopped on the square. One day someone asked us if we could hook her up and the rest is history. We decided right then and there that if we combined our expertise, we had a real chance of bringing broadband speeds to the areas left behind by the big box companies. We promise that we will continue to strive to bring the highest speeds (both download AND upload) to the Hill Country.
Hyper Fusion uses a variety of inter-meshed network delivery technologies to maintain a reliable and stable rural data delivery network.  A strong wide area network was formed by utilizing a combination of fixed point wireless, private fiber, direct fiber, and other proprietary methods along side our HyperNET Mobile LTE data service. Because our network is brand new, the infrastructure will last for many years to come and will vastly out perform any other  service provider in the area.
Thank you for your support and we look forward to serving our community.
Regards,
The Team @ Hyper Fusion, LLC
Office Number: (512)-790-2250
Mailing Address:  3400 South Water Street, Burnet, TX 78611
Support Email: support@hyperfusiontech.com
Andrea - Operations
Andrea Raynor is the Chief Operations Officer at Hyper Fusion, LLC with 18 years in customer service and information technology. Specializing in marketing, and project management, Andrea uses that experience to guide Hyper Fusion's drive to be a for customer, not profit, focused company. As a co-founder, Andrea has helped build Hyper Fusion into what it is today by bringing low cost broadband speed internet to Rural Texas. Outside of wok, Andrea loves exploring Texas on day trips with her son, Nicholai. She also loves spending time with her dogs, watching movies and playing video games.
Will - Engineering
Will Seykora is the Chief Engineering Officer at Hyper Fusion, LLC. With 20 years of experience in computer and mechanical engineering, Will specializes in telecommunications engineering. He uses that experience to manage Hyper Fusion's Field which includes towers, and all deployed customer gear. As co-founder, Will has helped build Hyper Fusion into what it is today by working continuously to ensure that our customers and towers are up and running to their optimal speeds. Outside of work, Will loves taking drives with his dogs, playing video games, and grilling.
Chris - Technology
Chris Seykora is the Chief Technical Officer at Hyper Fusion, LLC with 17 years in internet coding and networking technologies. Specializing in Rural Internet, Chris uses that experience to run Hyper Fusion's Network and ensure high speed connectivity regardless of where you live. As a co-founder, Chris has helped build Hyper Fusion into what it is today by working continuously to ensure our customers always come first. Outside of work, Chris loves playing with his dogs, spending time with his family, and playing computer games.