6 Oct
by Hyper Fusion
Last Weeks Work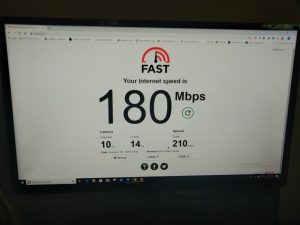 So everyone managed to get ALOT of work done last week.  We've  managed to get our Burnet Fiber gateway power post and everything installed so we can light up Briggs with live service, as well as the Burnet Fiber to the Home & Business DMARC.  We're getting ever closer to linking the networks into one massive much stronger network.  We are OFFICIALLY THE ONLY PROVIDER IN THE HILL COUNTRY in our class to have dual fiber gateways from 2 different providers.  Don't be fooled folks, ALL the other providers in Lampasas County do nothing but re-sell AT & T fiber which has been there for years.  We also picked up gear for the remaining folks that are waiting on repairs.  Also, we have received good news that, Blake our newest field engineer, is moving from part time to full time at some point during this month so that should help alot.
The week Upcoming
So as I'm sure many of you know, until we get the networks both fully joined into a single network, we have a very tight scheduled, and it may have changed drastically from what was posted last week in real time news chat.  With that in mind, all day Monday we will be working on the big Equrina Fields tower.  This is a key tower in the network joining process.
Tuesday we will be trenching and fixing up some customers in Council Creek that have been waiting MONTHS for repairs.  As well we will be climbing Burnet Main to put up a new 7 Creeks backbone radio to resolve the weird issue out there.
Wednesday and Thursday we will have Blake and another gentleman in Kempner getting those customers fixed up and ready.  Due to Will and Chris having to finish up the Burnet folks and complete out the Briggs fiber DMARC installation, we will not be able to finish the Kempner Main repeater until monday of next week.
Thursday we will be in Lampasas finishing off a few repairs and a couple new installs so we're full up on Thursday.  This Friday we do not have ANYTHING scheduled as we're saving it for any work we miss this week to ensure that EVERYONE gets helped this week and all our tower and delivery network work get done.
Best Way to Get Help
As a reminder we have multiple people working support tickets now, and not all during normal business hours, as I'm sure many of you have noticed from times of reply.  We ask that everyone focus their request there when ever possible.  Go online, on your computer or phone and login to your Fusion Portal and click the support tab on the left.  We do however have live customer agents available Tuesday through Friday 10am to 4PM for phone and live website chat support if you prefer.  Outside of Live Support Agent hours, Emili, our AI, can also help you.  You can call, SMS, or send our Facebook page a message to interact with Emili.  She can give you all kinds of information.
Primary Phone Number: (512) 790 – 2250
Mailing Address:
Hyper Fusion, LLC
PO Box 1442
Burnet, TX 78611
Summer Recovery Information
It has come to our attention that there were some customer refunds that were not mailed out this summer.  If you are still expecting a refund from last year and didn't get it, please email billing@hyperfusiontech.com   and we will get you fixed up right away.  Please be patient, we didn't mean to over look those few folks that didn't get them.  However, now that we have flushed the old staff that caused all those issues to begin with at the beginning of 2019, we've had no more issues with circuits and we're down to less then 10 folks who have yet to be repaired system wide.  Just take a look at your customer number, we started with customer one.  And if you just signes up for services in the last 6 months, check your customer ID number ( we're renaming this to your Account ID# now as well, just so everyone knows ) and you'll know how many customers we have.  ALOT, lol. Especially for just a little company of less then 10 staff, and only 3 of those are field staff.
The Hyper Fusion Difference
Unlike any other provider in our class in our area, we install and deploy our own private fiber and we are the only provider to do so.  In order to do this, not only do you have to know what your doing, but you also have to prove to other agencies you know what your doing.  You also have to file for BUILDING PERMITS to be able to do work like this, especially in the public right of ways.  As you can see, Hyper Fusion has ZERO problems sharing this, as permits are public information anyhow.  No other provider has posted any permits at all.  Well, where are the photos of their guys installing it?  Where is there publicly available permits?  You just simply can't find them because they don't exist. The ONLY provider other than the big box that have been in the area to have been issued such permits is HYPER FUSION.  This fiber gateway location was super important to Hyper Fusion and the community because it is now able to service the Briggs fiber DMARC.  the Briggs location is DIRECTLY connected to the Burnet site, already.  We just have to go splice in some fiber cable ports to plug into our fiber routers and switches and away we go. ( Essentially, go put an cable end on the cable so it will plug into stuff ).
And the claims that we got some big outside investor is just not true. Hyper Fusion was and is 100% funded and fueled by our owners. Period.  Hyper Fusion was started FOR this area by folks FROM this area.  This is the reason we are going just a touch slower than normal, because our ownership pool and combination of company funds is what builds this.  Chris and Will earn every penny they get and dump it right back into the company.  They do not drive around in brand new trucks or run around in Armani suits.  Over the last 2 years, they have CLEARLY made a commitment to their community to provide the best possible internet at the best possible price.  Here are some photos below of the Burnet fiber location and Will working out in the country in the right of way, as our legally obtained permit allows us.  Don't be tricked with getting stuck with AT & T through  another re-seller.  Get internet that runs on a TOTALLY separate network and never run the risk of getting stuck in the clog of AT & T fiber.
Additionally, as I'm sure you'll see the odd photo out, we've created a brand new customer quick start guide.  That clearly breaks out all our little funny nuances about Hyper Fusion and how to get started with your new service to ensure help and communication is established right from the point of survey.  I'm sure most of you would have loved to have a quick start guide.  By next weekend we will be posting the QuickStart guide available for download and pdf format.