A New Telecommunications Company Is Born!
As Hyper Fusion is rapidly growing we will list all of our locations and coverage as best as we can.  Hyper Fusion was founded June 1st, 2017 in Burnet, TX.  We do however, serve ALOT of locations most folks just don't realize.  We will try our best to keep this page as updated as possible.  The sites listed below primarily mention our fixed point wireless repeater site network but we have leveraged several partnerships thru three different statewide providers allowing us to provide every type of internet imaginable, including high end DIA Enterprise Circuits, MetroNET, and Cloud services, and much much more.  Just to make it completely clear, we can provider fiber in ANY Texas city and surrounding rural areas.
Robust and Diverse WAN Upstream Peers
NO other local incumbent rural provider can boast the kind of network Hyper Fusion now has active.  We hold more IPv4 addresses as well as IPv6 addresses than any other local rural provider, not to mention NONE of the other local incumbent rural providers even know how to deploy an IPv6 network.  We are also the only one with more than two paths out to the internet and as of February 1st of 2022 we also now hold more repeater sites than any other provider.  We cover four central Texas counties which include Burnet, Lampasas, Llano,  and just recently we finally broke into Williamson County.  We have also begun construction and deployment of our Williamson Market Gateway site which is located right in downtown Georgetown!  This site goes live on 6/1/2022.
Hyper Fusion's Multi-Honed Dual Stack Pure Digital Network
Hyper Fusion boasts the ONLY truly multi-honed and dual stacked ( meaning IPv4 and IPv6 capable ) network in the Greater Highland lakes area.  We're also ( with the exception of 1 other provider ) NOT on AT & T's network.  As a result, we're not subject to all the downtime most are due to the instable and over loaded AT & T network around here.  Even the couple new providers that just came into town, run off AT & T fiber, so they are just packing more people on an already over  sold network.
The image on the left is of our WAN links.  This is, how our private delivery network consisting of long haul fiber, Fusion Fiber to the structure, fixed point wireless  and 4G / 5G LTE towers, and our Nanopod Edge sites link out to the internet, and how our gateways link to each other.  The green lines are live links, the yellow lines are lines that are in progress and will be live before the year is out as we grow.  Although we may not activate them until 2022, depending on growh.
The image on the right is of our primary upstream peer interet-connection paths.  This is how our upstream peers link to other providers and inter-twine into the global internet.  As you can see, Hyper Fusion ( AS36247 ) has 2 paths out to the internet from our network set over 2 varying geographic regions.  You can click on any of the AS numbers to bring up a profile of that provider.
Repeater Site Network
Below is a complete list of all our active repeater sites, along with ones we are in progress with.  Hyper Fusion officially holds more repeater sites than EVERY other provider in our markets and class allowing us to have unparalleled coverage, reliability, and speeds.  As of March 1st, 2022 we hold more fixed point wireless repeater sites than ANY other incumbent provider in our markets.  We are also the ONLY one of them to offer in town AND rural residential fiber as well as small business and enterprise fiber.
Burnet Market
Market Opened On: June 1st, 2017
( Launch Market )
Burnet Main - Live!
Eagles Nest - Live!
Cassie - Live!
Council Creek - Live!
Wolf Creek - Live!
North Shores - Under Construction
Kingsland North - Live!
7 Creeks - Live!
Equrina Fields - Live!
29 East - Live!
Burnet East - Live!
Aries - In Permitting Phase
183 Midway - Permitting Cleared
Bertrum - Permitting Cleared
Marble Falls - Under Construction
Granite Shoals - Under Construction
Thunder Rock - Permitting Cleared
Horseshoe Bay - Permitting Cleared
Oatmeal - Planned
Spicewood - Under Construction
Kempner Market
Market Opened On: Aug 1st, 2018
Kempner was the 2nd market we opened up.
Kempner North - Live!
Kempner Main- Live!
Our Friends- Live!
Chica Ranch- Live!
580 Midway- Live!
Adamsville South- Live!
River Place - Under Construction
Pecan Valley - Under Construction
Nix - Under Construction
Cowbow Hills - Permitting Cleared
South Topsey - Construction Scheduled
Lometa - Under Construction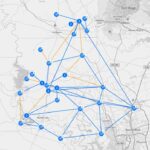 Williamson Market
Market Opened: Feb 1st, 2022
This is our newest market.
Andice - Live!
Liberty Hill - Under Construction
Georgetown - Under Construction
Balcones - Permitting Cleared
Cedar Park - Permitting Cleared
Llano Market
Market Opened: May 1st, 2019
Lake Buchanan Village - Under Construction
Tow - Under Construction
East Llano - Under Construction
Subscriber Care Centers
1st Location - Burnet
3400 South Water Street
Burnet TX 78611
Marble Falls
1510 US Hwy 281, Suite 202-s
Marble Falls, TX 78666
Grand Opening on Feb 1st, 2023
Kempner
Will be announcing location soon
Opening Fall 2023
Cedar Park
Will be announcing location soon.
Opening Winter 2023
Partner Datacenters
Austin 1 - Datafoundry Co-Location - Standard DC Uplinks - Datacenter Controlled
Michigan 1 - Liquid Web Co-Location - Standard DC Uplinks - Datacenter Controlled
Canada 1 - OVH Canada Hyper Cloud VPS Only - Standard DC Uplinks - Datacenter Controlled
San Angelo 1 - COMING SOON!
Gateway Sites
Burnet 0 - Burnet, TX, - 2 x 1Gbps Upstream Links, 1 x 10 Gbps Transit Link to Kempner 1, 4000 IPv4s, /36 IPv6, 1 Gig Redundant Capacity
Kempner 1 - Kempner, TX - 2 x 1Gbps Upstream Links, 1 x 10 Gbps Transit Link to Kempner 1, 1 x 10 Gbps Link to Williamson 2,  4000 IPv4s, /36 IPv6, 1 Gig Redundant Capacity
Williamson 2 - Liberty Hill, TX - 1 x 1 Gbps Upstream Link, 1 x 10 Gbps Transit Link to Burnet 0, 1 x 10 Gbps Transit Link to Kempner 1, 1000 IPv4s, /36 IPv6, 1 Gig Capacity
Nanopod Edgeᵀᴹ Co-Location Sites
Burnet Market
Burnet Main - LIVE - Co-Location Available
Marble Falls ( Coming Soon )
Briggs ( Coming Soon )
Kempner Market
Kempner North - LIVE - Co-Location Available
Kempner Main ( Coming Soon )
Adamsville ( Coming Soon )
Copperas Cove ( Coming Soon )
Williamson Market
Georgetown ( Under Construction )
Liberty Hill ( Coming Soon )
Cedar Park ( Coming Soon )
Partners