24 Aug
by Hyper Fusion
PUBLIC OFFICE IS COMING SOON!

Happy Labor Day weekend Hyper Fusion customers!  As August draws to a close I decided to put out our August update a little early.  Lots of changes coming to Hyper Fusion in September folks.  This weekend we begin our move out of the little duplex we were using as our NOC.  We are in the process of securing a public, commercial property and public office for our customers to be able to enjoy.  We will be super busy with this until the 27th of August, this coming Tuesday, so if we do not answer the phone or reply to your ticket right away, this is why.  ALL OUR STAFF are helping with the move.  That, and Monday we're flat out closed for Memorial day.  We will be fully set up and operating by Wednesday morning though, so things will return to normal by then.
I'VE BEEN TRYING TO GET HELP WITH NO LUCK, HELP!
So there have been some complains regarding being able to get in touch with someone.  This week, our office manager Michelle was out 3 days with a nasty sickness.  So that's most of it.  For those of you who do not know, the methods listed below are the ONLY ways in which we provide support:
Phone & Webchat Support – Open Tuesday thru Friday, 10am to 3PM ( summer hours ).  Oct 1st, starts winter hours, which are Monday thru Friday, 9am to 5PM ( but still close these 2 options at 3PM on Fridays ).
Fusion Portal Support Ticket – 24 / 7  This is the PREFERRED method and will get you the quickest responses.  Whether you call, text, or chat with us, all information regarding what ever issue it is your contacting us about is put into a ticket, so you may as well go right there.
SMS – You CAN SMS our primary company phone number (512) 790-2252, however, generally, we only use this for quick communication on appointment days for the post part.  We would appreciate, that the very FIRST point of contact you make, is by creating a new support ticket OR you can email in from the email address on file and it will create a new ticket automatically for you and email back a response with a ticket #.  THEN you can call, SMS, or web chat support, and ask our peoples about the status, making sure to include your ticket #, so that we can find your request as quick as possible.  Our system DOES send out SMS alerts when ANYONE including staff making changes to your account.  And just as the text says, if you are unaware of the changes, please call customer support directly.
HYPER FUSION NETWORK REAL-TIME NETWORK STATUS PAGE: https://www.hyperfusiontech.com/status
We have updated the status page and we have a new person that has joined the team that will be handling the status page and watching the network when Chris is off to help ensure the network stays rock solid and stable so please check out the status page when your done reading this article.
Another thing that's been mucking up the works folks, is this fact folks, companies like Google, Facebook, Square Space, and many other big box companies, there's no way you can talk to the owners or higher ups on the phone, or be email!  Please keep this in mind.  This is something our owners do and allow because we think all associated persons, staff, customers, etc, should be able to in some cases, but not all.  So please don't abuse this anymore folks.  We have processes in place and have adopted them for a reason, so that everyone's requests can be processed as soon as possible.  And if you're a current customer that used to call up and leave messages in the sales voicemail box, this note is for you.  All this did, was slow up getting your requests resolved.  Hopefully this is a lesson learned all the way around.
In an effort to make sure our network stays running as fast as it can and so there are no more outages, Chris is officially 100% out of the customer service department.  He is not exclusively handling our repeater customers, delivery network, and IT infrastructure only.  If Chris was handling a customer issue of yours, he has dumped all the information he had to your customer files so that Michelle, and our backup office staff can handle and attend to your issue.  If Chris was helping you, there are a handful of customers he will continue to handle until they are repaired, or installed.
If you still have an issue, some work needs to be done on your circuit, or your waiting on a router but don't have it yet, please email support@hyperfusiontech.com  sometime this weekend and let us know the best day of the week and time of day for us to come get you fixed up.  We have a fully trained Operations Support manager now that is handling all the scheduling and helping to direct the field.  Will is still of course the Field Manager, and we all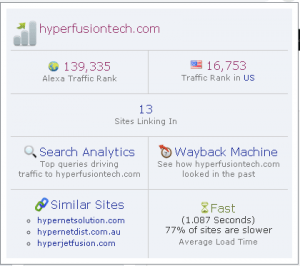 know what he does.
STAFF RESTRUCTURING A COMPLETE SUCCESS!
The good news is, we've completely worked all the riff raff out of our company and have solid, honest, and good people working for us.  As we move forward we understand that a lot of you folks have been effected by their VERY poor installation skills, judgement, and awareness.  It's pretty clear to everyone, with the massive increase in web traffic, income, new customers, and exposure, the old staff that have been terminated we're clearing causing Hyper Fusion to take a dive.  We are super pleased that since they've been gone, all of these things have DRASTICALLY improved by leaps and bounds.
Will is moving as fast as he can to repair all the damage they caused.  Well over 85 customers where negatively impacted by their poor work quality and it just simply took Will a solid 2 months to repair it all.  The amount of losses we sustained as a result is already over $300,000 and rising as we finishing off the last dozen customers to be repaired.  Will is 1 person folks, he can only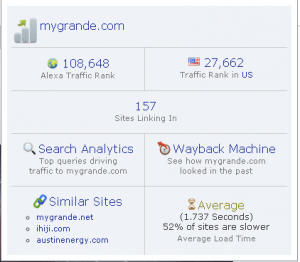 dish out 3 to 4 jobs per day, and of course we can't have him working 7 days a week or we won't have him at all, so he does not work weekends.  With the repairs caught up though, wait times will not be so long.
As you can see from todays Alexa rankings, we get more traffic in the US now then even Grande Communications does and we're about to over take them from a world wide web stand point as well.
NEW FIELD TEAM STARTS NEXT WEEK!
We are super happy to announce that Chris has put together a new team he's finishing off training for and operating as their foreman.  Should take us 1 to 2 weeks to fully train them but over the next week with another crew running this should drastically pick up the pace of future appointments and get  to all these nagging little things, like stabilizing Equrina Fields and putting up their big tower, putting up the new 7 Creeks backbone link, installing Arrowhead the correct way, beefing up Chica Ranch, laying the Chica Ranch Fiber To The Home DMARC, and all sorts of other projects.  We are still DESPERATELY looking for more field staff and start at $15 / HR WITH ZERO EXPERIENCE! If you can start your work day at 8am, can take the Texas heat outside all day, are reliable, are not a sex offender or do drugs, then we want you!  If you can terminate and weld fiber, and you have the welder and ALL tools, we pay $18/hr for general field installing, plus $250 / splice and $75 per end termination, and we're about to have ALOT of fiber work with the Chica Ranch fiber to the home starting next month, so please, spread this post everywhere you can on facebook.
NEW HYPER FUSION BOARD OF DIRECTORS!
This is probably our biggest news yet.  Our dedicated co-founder and current captain Will, has worked with some other folks over the last 2 months to put together a 7 seat board consisting of well respected local community members.  The hunt is over.  All 7 members  have been obtained.  We will be making an announcement later this week regarding this in full detail.
What does this mean for Hyper Fusion?
Well, in short, good things, many good things.  One of our board members is retired from the City of Marble Falls HR & Compliance director.  This gal HIRED AND FIRED POLICE OFFICERS!  She is well integrated into the community and is serving as the Hyper Fusion Director of Compliance and will be in charge of making sure Hyper Fusion's HR program is following all employer laws and regulations as well as our staff as well as making sure all our activities are within compliance with the Texas DOT, FCC, and many more initials.   Another big piece this is going to allow us to do is convert our LLC into a full big boy Texas Private Corporation with shareholder stocks and everything.  Once our company fully incorporates before the year is out, Will is planning on selling 10% of his shareholder stocks to local residents and these stocks DO come with voting powers.  These will NOT be public stock, but privately offered, as Will owns them.  Just so most folks know, we absolutely refuse to do an IPO or take our business out of Texas.  We are Texas born and Texas proud! ( Also, must be a resident within our home market in order to talk Will into selling you some stocks! )
Over the next coming months the newly assembled board will be getting the new Company Bylaws drafted with our new corporate lawyer to make sure every single process, document, and product Hyper Fusion deals with is rock solid across the board and done by the book.  Now that we've gotten all the issues with our company resolved, we can create the new Corporate Bylaws with a large scale telecommunications company in mind, as that's what we intend to grow into with our company.  This will ensure our network becomes rock solid, industry standard, and every bit as good as any of the big box wireless providers, but with all the speed of metro fiber circuits.
RECENT FUSION PORTAL CHANGES CAUSING DIFFICULTIES!
We've had an increase in reports of some customers not being able to get into the Fusion Portal.  There could be several reasons for this and are not limited to, but may include:
We recently made massive hardware and software upgrades to our portal, along with that changed the access URL, the new is: https://portal.hyperfusiontech.com
You're using custom entered DNS servers on your router or device.  In order for our Fusion Portal to work even while your suspended, you MUST set your router's to obtain their internet or WAN IP Automatically / DHCP  INCLUDING the DNS servers.  If you use your own custom or private DNS servers, you will NEVER be able to access the Fusion Portal while using your home circuit.  At this time Hyper Fusion does NOT allow custom DNS servers.  Once we make the full upgrade to the pure IPv6 network, this will change.
Your device maybe having some issues, or have other DNS settings.  We've learned the very newest Apple devices are subject to this.
If you still can not get into your Fusion Portal with the above in mind, please contact our Support Department, and Chris will come out with his shiny new crew next week and get you all fixed up.
THINKING ABOUT GETTING NEW HYPER FUSION SERVICES?
We would love to have you on board, we have many repeaters with lots of room on them.  However, you may not know, our home market sustained a small tornado on June 9th of this year which caused our Kempner South repeater to fall.  We have rebuilt a new one and renamed it Kempner Main, however, this storm also took out a good chunk of our Kempner and Lampasas customer circuits so we've JUST finished up with almost all the repairs from that.   Although we would LOVE to put on new customers right away, we like to try and focus on those customers who have already paid and do not have internet.  As a result, right now, new customer installation appointments are currently booked up to 3 to 5 weeks out.   We do apologize about the wait and we still want you to sign up using our sign up form on our website here, just please do not get discouraged if we do not contact you right away.  At this time, it takes our staff about a week to get back to a new customer request as we focus on repairing our loyal existing customers issues and getting everything with their circuits rock solid.  You'd want the same care and attention if you where paying, right?