23 Nov
by Hyper Fusion
Overview
I'm sure as many of you know, over the last several months there's been a drastic increase, and improvement across all areas of Hyper Fusion.  The network is faster, customer support has drastically improved, appointments are being kept on time, and the backlog is being piled through in a hurry.  The proof is in the pudding as they say.  It seems we are doing FAR better.  All the way around.  We have a new field person who actually installs our circuits to code, a well trained new live customer support person, and we also have an insanely good  business management team. Also we have welcomed our new awesome Accounting Manager whose really help to shift the tide here at Hyper Fusion.
As a reminder, our current primary office phone number is ( 512 ) 790  – 2250
Our Live Customer Support Agent Hours:  Tuesday – Friday 10am – 4PM
South Network Exhaustion Progress
We have finally have power at our Burnet Gateway Fiber DMARC site.  FINALLY! We are now just waiting on our upstream provider to come out and deliver our device to get this network cooking.  The uplink to Burnet Main has already been installed and already measured at the full 1.5 Gbps transfer rate between our Burnet Main tower to our new gateway site.  This will be a massive upgrade from the current 0.3 Gbps transfer rate we have now.  Our primary gateway access to the internet will also be fully off the Spectrum Coax that went 300 Mbps down by 20 Mbps, to a circuit connection that runs at 1,000 Mbps down and up!  This will no doubt make anyone connected to the south network screaming fast and resolve those exhaustion issues.  We will make a public post on our site once it is hot, although most of you will see the difference as soon as you use your internet. Please be advised that when we do go hot at our DMARC that you may lose service for 5-10 minutes while we make the change, but you will come right back up with faster speeds.
Realtime Network News Chat Officially Moves to Slack
If you are an active Hyper Fusion customer and want to join the new real time news group chat, simply login to your portal, and on the left hand menu, click on Control Panel, and as in the example screenshot below, you'll see the slack button.  Just make sure you have signed up for a slack account.  Why the move to slack?  Well, for starters, hangouts will eventually be going away, and we didn't want to use any service tied to Facebook or Google, Apple. We also needed a chat that Emili could interface with. We offer this chat as a service to our customers as a courtesy and we feel Slack is the best choice for Hyper Fusion.
Slack has a web interface, android app, and an apple app, so no matter which way you'd like to use it, there is an interface for you.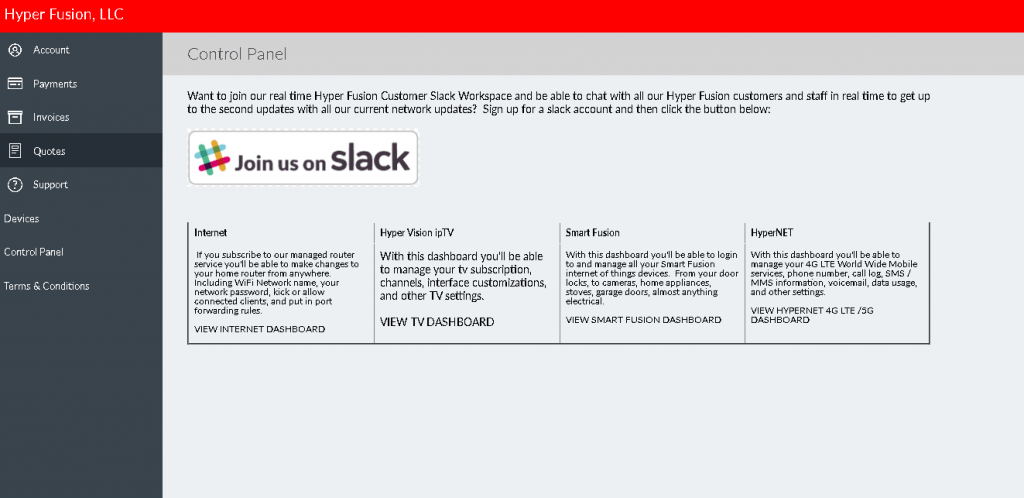 New Live Customer Support Agent Has Joined The Live CSA Pool
We're pleased to announce we have a new agent working our Live CSA Pool.  That means, during all normal live customer support hours ( Tuesday – Friday, 10am – 4PM ) she will be answering phones and taking web chat support requests from visitors on our website.  As I'm sure some of you have started to notice, nearly every call is being answered now.
Holiday Hours
The following list of days our live customer support call center will be closed:
November 27 – December 1st ( Thanksgiving )
December 21st – Jan 6th ( Christmas Break )
Our field staff be off the following days:
November 28th – December 1st ( Thanksgiving )
December 24th – December 29th ( Christmas Break )
January 1st – New Years Day Freebie