We knew the day would eventually come when we got enough subscribers that would could start being competitive with the Co-Ax cable modem providers in Burnet.  Well that day is finally here.  As we do from time to time, we ordered up a spectrum cable internet modem internet service from Spectrum of course just to check out their pricing as well as their over all network quality.  Well, this holiday season we're going to make that happen!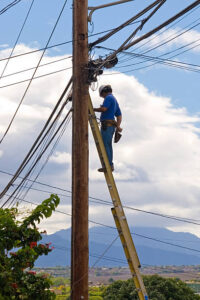 The very last circuit we ordered not more then 4 weeks ago we were charged a $250 activation fee just to get service and the top upload speed they had was 30 mbps upload.  Well, Hyper Fusion's top upload speed is 100 Mbps.  If your working from home, use VPN, like to watch your cameras remotely, or doing work from home, upstream speed is CRITICAL.  With that in mind for the rest of December, if you sign up, you can pay just $247 for your activation fee to reserve your installation appointment and get $53 off our normal activation price of $300.  So yes, folks, we are $3 cheaper than Spectrum or most common cable providers!!
We are offering 2 specials for December for our New Subscribers;
A. $53 off our normal $300 activation at the time of installation appointment booking.
or
B. If you have a qualifying fixed point wireless circuit from a competitor you'll receive a $100 credit towards your 2 months service bill if we're able to re-use the circuit lines. ( Qualifying competitors include Zee-Con Wireless ( Burnet Market ), 281 Communications ( Burnet Market ), Home Smart ( Burnet Market ), Rise Broadband ( Burnet Market ), Roll Call Internet ( Kempner Market ), Olive IP ( Kempner Market ), SOS Communications ( Williamson Market ), Hearland Wireless ( Williamson Market ), and Western Broadband ( Kempner Market ).
To Sign up for new service simply visit https://www.hyperfusiontech.com/signup  to get signed up today!
WE ARE ALSO NOW ACCEPTING AND DOING LIVE INSTALLS FOR OUR FUSION FIBER DIRECT FIBER SERVICE TO THE HOME OR BUSINESS FOR THE CITY OF BURNET,  CITY OF KEMPNER, RIVER PLACE, THE PENINSULA AT ROCKY POINT, AND HORSESHOE BAY!  REMEMBER TO PUT THAT YOUR INTERESTED IN FIBER IN THE COMMENT BOX!