10 Sep
by chief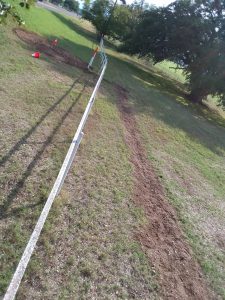 SERVICE NOTE: Our Kempner fiber is officially live.  We will be spending the rest of this week linking in to the north network that covers the Kempner North, Kempner South, Our Friends 1 & 2, and Chica Ranch repeaters.  During the course of the week, speeds may vary and connections may go up and down as we integrate a 2nd primary connection into our network.  This is advanced time consuming work and will take a few days to get all the bugs out as with any upgrade.   We ask for your continued patience will we complete the final step to unleashing our fully brand new trained 3 install crews to get all our waiting customers online over the course of the next few weeks.
That's right everyone!  Kempner fiber is now a reality!!  Hyper Fusions crazy awesome field crews have completed trenching and splicing our fiber into our providers dark fiber network!  The land owner we are working with is a private person and wishes to remain that way.  So, at the land owners request, we ask that no one pull to the site of the road to look at things, we've posted some photos here for those of you that are curious.  And just a side note, as with all our repeater sites, they are all under 24/7 monitored video surveillance, so we ask that you respect our land owners privacy.  We also have LOTS of battery back up and are keeping an eye on this property for the Lampasas Precinct commissioner who has jurisdiction over that area of Lampasas County.
We now have access to a full 10 gigabit per second download and upload fibers, over 2 separate fibers for redundancy available to us at our DMARC location that connects directly to Kempner North repeater.  This means that ALL those who have signed up or paid money can now come online.  This includes all our pre-installed customers across the Lampasas & Kempner Areas.  With this major hurdle behind us, the next 3 repeater locations we will be focusing on are the Blackbuck Ridge dedicated repeater, Our Friends 1 & 2, and Lampasas West.  We appreciate all those who stuck it out with us to get to this point and the wait is finally over!!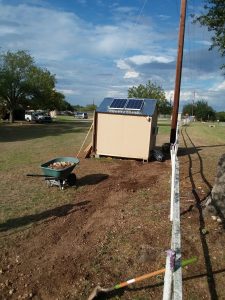 We ask that if you live in the Lampasas or Kempner area to please login to your Fusion portal account and create a new ticket letting us know that you need to be installed if we havn't already contacted you.  Our new office people are top notch and super responsive.  And just remember folks, unlike the other competitors, we truly lay our own fiber, we fully operate our entire wireless network in house, we boast 2 competing connections out to the internet that ARE NOT AT & T ( remember folks, ALL the current providers in Lampasas are still running on AT & T's network, so when it goes out, so does everyone else, this is why we took the time to ensure we were NOT using AT & T's lines don't believe us, just visit http://www.speedtest.net  from your providers connection and look to see who the provider is, it will say AT & T, and after tomorrow, Hyper Fusion's will come back as neither AT & T OR Spectrum ) ,  we also operate our own IP network as well as 100% proprietary security protocols and firewall software.   We also certainly don't leave our primary router exposed to the open internet on default ports either.  Super bad that several of the other wireless ISP's still have their primary routers openly exposed to the internet and leaving all their customers exposed to all that internet nastiness.
Often imitated, but never duplicated, Hyper Fusion takes the time to make sure our network is rock solid before fully deploying it to ensure our high quality standards.  With that in mind, we now have 2 official office staff, 3 fully trained and highly effective install crews, a dedicated repeater / tower crew, and an outstandingly over qualified field supervisor managing all the chaos with extreme ease.  Jord'n is the type of operations manager Hyper Fusion was looking for all along.  We know we've had many complaints about our old "interim Chief Operations Officer" whom we had to fire due to him conducting some highly illegal and morally reprehensible activities and being all around bad for Hyper Fusion. Not the type of individual we want representing our company.  We have since learned they have attempted the same thing they did with Hyper Fusion with another company before us, and we've learned they are back at it again with another company.  None of the workers we have had prior to February 1st of this year work here anymore and our new staff comes to us with EXTREMELY well conducted background checks and making sure that we are hiring solid folks, both with their background and qualification.
Regards,
The Team @ Hyper Fusion