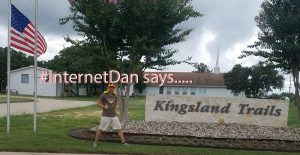 Kingsland Internet
That's right everyone, Hyper Fusion Technologies has finally arrived in Kingsland, TX. We have our repeater fired up and ready to serve all the fine folks of Kingsland, TX with highspeed TRUE broadband internet.  We already have a few customers in Kingsland Trails and are also ready to start installing our pre-registered and pre-installed customers first.   We officially have 2 repeater towers and a direct fiber to the home / business fiber DMARC access point for linking into our fiber network.  Fusion Fiber IS available for the Kingsland area.  Be careful not to get fooled by the other guys using fiber in their product name but it being a wireless connection.  Hyper Fusion would never use sneaky tactics like this just to catch a sale.  We are here to help our community, not hurt it.  This is a direct hardline fiber directly to your home or business NOT wireless.
Beware of Imitators
It's really sad we even have to post this, but we would be doing the residents of not only Kingsland, TX, but Burnet County as a whole.  As we're sure many are you are now aware, the original staff Hyper Fusion hired came to us under false pretenses in an poor attempt to hi-jack and steal our company from the founders who worked so hard to bring the Hill Country area TRUE highspeed broadband at reasonable prices.  Needless to say, this didn't make some rather influential residents of Burnet County too happy to have the highspeed internet they so desperately needed to be stolen out from under them.  Against all odds, Hyper Fusion survived and we've come back stronger then ever with brand new HIGHLY qualified and trained staff.  We know many of our pre-installed customers have had horrible installs done by our original staff and our now completely trained TWO new install crews are ready to make it right!
We do ask all residents and current pre-registered companies to be careful of these folks, as we are actively aware of their attempts to take stolen proprietary information in an attempt to provide internet services.  We were not the first almost victims of their attempts to mess with businesses and as we've learned, they are back at it with another company since us.  These are very bad people folks so don't be fooled.  Hyper Fusion continues to make advances in strides to protect our proprietary data and technologies out of the hands of nefarious characters like these.  We also ask that you do not have any contact with the original staff, they no longer represent us and are under heavy investigation.  If you have any questions regarding this, our management team would be happy to speak with you about it in greater detail.
Enough of all that doom and gloom, Hyper Fusion has lived, and that which doesn't kill us, only makes us stronger as they say.  With that in mind, we have completely made over our office as well.  We have several new office staff to answer phones and

manage the online web chat support during ALL normal office hours.  We've also lowered our setup fees to $250.  With the extreme explosion of live customers and our Kempner Fiber Gateway as well as the brand new Burnet Fiber Gateway going live ( after getting it back from the original staff destroying it ), we now have a fully redundant network and also have completed about 1/2 of our Kempner / Lampasas area pre-installs to full live status.  Customers are now getting as high as 200 Mbps downloads and 11ms ping time!!  Nothing short of breath-taking.