20 Dec
by Hyper Fusion
Hey everyone we're happy to announce a new product we're supporting. Built by the same manufacture of our outstandingly hyper fast radio gear, using the same mesh system our 5G wireless network uses, and built for gaming. It's the AmpliFi Gamer's Edition Router.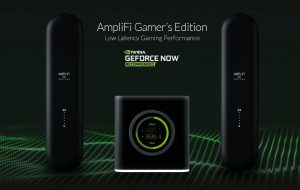 Get the Lowest Latency
The AmpliFi HD Gamer's Edition is equipped with a GeForce NOW QoS mode, developed by Ubiquiti with NVIDIA's support to quickly adjust networks for optimal game streaming performance. The QoS implementation offers gamers a simple solution for detecting latency or frame loss issues, resulting in a top-quality experience when other traffic is present on the network.
Only $447.00 INSTALLED! No Monthly fee's, you own it!
Please create a new support ticket if your an existing customer or if your a not a customer, please email sales@hyperfusiontech.com if you'd like to buy one of these awesome routers. Even if your not an internet customer, we're happy to help your current provider run better and be more optimized for you.