24 Sep
by Hyper Fusion
Schedule Updates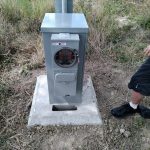 We do apologize we didn't get a chance to get much notice out this morning.  We got up nice and early and went and checked our storage gear for the mounts we needed for Lampasas however we do not have any more on hand so we had to order more today and one of our staff will be driving to collect station tomorrow to fetch those items.  The City of Burnet issued our permits and things and completed their end of things so as a result we now have a shiny new power pedistal and power service to fire up the Burne
t south Fiber!  finally!  This weekend will be connecting Burnet Main and Eagles Nest directly to the splice point as well as replacing the 7 creeks downlink master radio and adding some noise isolation mounts to the east facing access point while we're up there.   This will drastically improve everything around there.  As the gateway effects ALL our customers this required our immediate attention.
Tomorrow ( 9 / 25 )  we will be working on the Kempner Main tower and finishing that off which will drastically help Chica Ranch.  For those of you close to their we will be working on you as well tomorrow.  Day after we will go back to Lampasas to finish those folks up.  We do apologize about the change up but we are trying to make sure everyone gets done what they need without putting them off for more then a day or 2 anymore.  We do apologize about Kingsland area folks will have to wait until Monday.  We are also ordering some gear that will help y'alls installs go fast and a few minor tower pieces to help block noise as well.  We are pushing hard over the rest of this month to make sure everyone that is strangling on issues gets fixed up.  At this time however, our systems report that 91% of our circuits are at or above package and 96% of them have some services, while only 4% are complete out.  This doesn't mean that we're leaving y'all behind or forgetting about you, but when items from government agencies pop up, Hyper Fusion MUST comply with them.  That's how we maintain our licencees, permits and access to infrastructure that most providers just don't have, at least not any small town WISP's anyhow.
New Emili Feature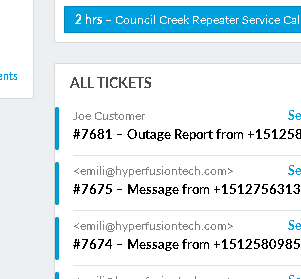 I've added in a live outage reporting feature now that everyone can use while talking to Emili.  Just say, "Emili, I'd like to report an outage." and she will automatically create a new ticket in our system and fire out appropriate notifications.   This will help speed up repairs and letting us know that your having issues and so we don't lose a single request.  In addition, during live customer support hours, if for what ever reason someone doesn't answer customers now have the ability to leave a voicemail which pops up in our system as a new support ticket with the voicemail attached.  This will help ensure we don't miss anyones request.