9 Sep
by Hyper Fusion
Change In Standard Weekly Update Notification Procedures
Hey everyone, to make it a bit more simple, we will now be having someone from our team post a weekend update post, just like this one.  We will have this generally posted at sometime on Sunday, so the post is up and ready for everyone to read first thing Monday mornings.  As we grow our new management team has recognized the need for once per week meetings to make sure all our field staff, office staff, and other teams are all on the same page.  With that in mind, it is important to understand that over the next two weeks we are changing over a lot of our business procedures AND network to get things complete stable network wide.  With the new plan we've put in place and everyone that did need help emailing in as instructed, it will allow us to get everyone on the schedule tomorrow and those of you who emailed in as instructed will be getting put on the schedule and will be getting phone calls tomorrow to confirm appointments.
PLEASE NOTE: We are working VERY hard sweating our @#$% off and busting our backs so that each and everyone of you can get fixed and we can resolve our spring and early summer no shows as a result of the shady job those terminated staff where doing.  Moving forward now that we have a solid management team, a much better trained office staff, and a MUCH more trained and HIGHLY capable field staff put together over the next 2 weeks things should level out rather quickly.  If you emailed in for a repair over the weekend, all of our staff will be busy all day Monday working out this weeks schedule to get you all repaired and our field team is fresh off a break and ready to get cracking on everything.  We will get most of you called back before the day is out.  Anyone we miss, we will get you first thing Tuesday morning.  With the transfer of the phone system to a new provider and all our network IP's switching over to our new fiber provider, phone support will be very spotty this week, as will web chat support.  We highly recommend you use the ticket system this week or call EMILI if your not having any luck with web chat support or phone support.
After September 16th our live phone and webchat support hours will expand to Tuesday thru Friday 9am to 4PM.  All customer support agents and field staff we give off the day before and day after the following holidays if they land during the week; Easter, Summer Break ( June 19 – June 23 ) , July 4th, Labor Day, Memorial Day, Veterans Day, Thanksgiving, and our Christmas Break runs from Dec 23rd to Jan. 2nd each year.  During Christmas Break NO ONE will be around or doing anything.
We have created a new category in our company news feed for our weekly updates.
So shortcut the following URL Link:  https://www.hyperfusiontech.com/category/weekly-updates/
Now Hiring Field Technicians
With the massive influx of new signups from yet another media posting we really need some more solid field folks.  No experience is required to becoming a Junior Customer Premise Engineer and we start at $12.50 / hr and guarantee a raise to $14 / hr if you pass your 30 day probationary period and training.  As a junior a vehicle is handy, but not required and we do not cover gas for your personal vehicle being driven around as you will be riding with your assigned Master CPE Trainer.  In order to qualify as a Senior CPE upon hire you MUST have your own presented. insured truck, SUV, or other capable vehicle that will carry up to a 40 foot extension ladder.  You also must know how to terminate Ethernet cat 5e -B standard efficiently with a low failure rate and be able to find and correct any errors when they are made, you must also possess a full set of speed wrenches, sockets, deep sockets, fishing rod, drills, big 12 to 18 inch drill bits for drilling thru structures exterior walls, a small light weight netbook or larger tablet (to access gear) and a used and unlocked mobile phone your not using (We provide the SIM card  and do recommend a Dual SIM phone for optimal operation).  You must also have a basic understanding of how you get a DirecTV type satellite dish to connect or actual fixed point wireless radio alignment experience.  As a senior you'll also be responsible for speaking with the customers so customer service skills are a must.  Starting pay for Senior CPE's is $16 to $24 per hour depending.  A live on the first try bonus is paid to ALL staff.  Additionally, once you pass your probationary period, you'll get free internet.
The most important things you need to understand about this job is we need folks who will CONSISTENTLY arrive at their first job site for the day at 9am SHARP without fail Monday thru Friday.  We also work outside on roofs and in ditches out in rural remote areas.  It's consistently hot, for the most part, even in the winter.  It gets dirty and at times can be tough.  We need rugged guys.  Roofers, we can train you to do this from the ground up, so if your out of roofing work, having a basic and strong knowledge of how rooves are built in order to place mounts makes you prime candidates.  Don't be scared off by the fact that this is internet.  This is line-of-site and the receivers are will be pre-configured, literally point and shoot, then hook up your cable and your done.  Also, we do conduct pretty heavy background checks for obvious reasons.  Any injury claims will require a drug test.  If you come back dirty, not only will you not be covered for the workman's comp insurance, but before you can come back to work, you MUST complete a certified drug re-rehabilitation program.  We believe in 2nd chances, but that's all you'll get.  A 2nd drug offense will be an automatic termination.
For more information on positions, and to fill out an application, be sure to check out our jobs page at: https://www.hyperfusiontech.com/jobs-careers/
Phone System Changes
As we move forward with getting our business professional and getting all our ducks in a row, the management team has decided to switch our phone system provider.  Over the next 5 to 7 calendar days as they switch over the ports with our numbers calling may prove difficult.  Once the change over is complete however, ALL SMS notifications and our primary phone number will be changing to (512) 790-2250 This will be our permanent phone number moving forward for years to come.  After this week any authorized staff that call or SMS you, the caller ID will come from this number and this number alone.  If it does not, this is NOT Hyper Fusion communicating with you and you should email scams@hyperfusiontech.com  As we grow, we expect that we will start getting hit with some scams.  We've always got to stay 2 steps ahead of the scammers and spammers.
Standard Communications Procedures Update & Getting Help With Slow Speeds or No connection.
From this point forward Hyper Fusion will no longer be sending out emails of any kind other then courtesy notifications for changes made to your account or new replies made on your support tickets.  Our ticket system is our ONLY official form of communication regarding your account.  So if you want to upgrade your services, transfer them, terminate them, or any other official change regarding your account it must be done through our ticket system.  You can create a new ticket by either logging in to your Fusion Portal online and opening a new ticket or by emailing into support@hyperfusiontech.com   Please be sure to ask your question in the body of the email or ticket in your Fusion Portal and limit your subject line to 200 characters or less.  If you put a big long giant question in the subject line, our system cuts off everything past 200 characters so we won't be able to read it and help you as quickly.  Please, we ask that all customers focus their communication within our ticket system.  Our office manager and Chris will be working very closely together every morning before he heads out into the field to go thru as many tickets as possible to make sure everyone gets speedy customer support.
Additionally, for those customers who are used to speaking to Chris or Will directly for customer support, they will both be training our current support staff and office manager very heavily thru out the week in order to assist you in any questions you may have or help you may need with your account.  In order for us to get our field work caught up and every one happy and satisfied they will need to be focusing on field work quite heavily over the next few weeks and will not be available.  As Hyper Fusion grows they will need to focus on building the business and ensuring that our network doesn't get pummeled again by people who don't know what they are doing and with our new managing and now screening staff much more heavily, its helping us avoid those issues moving forward.
If you recently have had normally working service or at least some service, EMILI, our AI, can help most customers get going again.  In our first week she fielded over 500 customer support calls and 200 of those where slow speeds our connection was out and she was able to resolve 70% of those without our interaction so she's already pretty good.  Chris will be teaching her how to do all sorts of things soon including changing WiFi passwords for those of you with our managed router service, being able to interact with EMILI with a Google Home speaker using the Google assistant, check on your bill to see when its due, and all kinds of things, just call ( 512 ) 645-1135 to give it a try.  To get a more comprehensive list of questions to ask EMILI with help on, CLICK HERE.
Burnet South Gateway Fiber Upgrade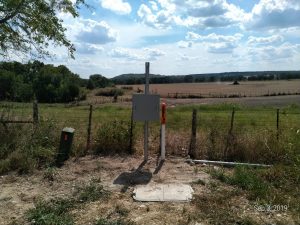 So we ran into a slight delay with the City of Burnet as this is our first site we've ever placed inside city limits that require a master electrician to pull a permit and have the city inspect the site before we can connect up the power.  All the other work is completed however and Tuesday we will be digging the power trench on the site and getting the Burnet South fiber spun up.  Wednesday night we will be making the change over.
Our Friends 1 / Arrowhead Repair Job
Our entire staff will be out at Our Friends on Wednesday to work on the repeater, boost up the parks WiFi, and permanently repair the arrowhead down-link radio mount structure and replace the line.  We will also be working on customer repairs within a 5 km radius of our friends on that day.  We ask that if you are a resident or guest in our friends to please email support@hyperfusiontech.com  if you would like a booster radio and cube router like the residents with solid service have so we can get everyone trimmed up.   Residents and guests of Our Friends 1, are you having troubles using the park wide WiFi or is your other providers internet suddenly slower?  CLICK HERE to find out why and how to fix it.
Our Friends 2 / Chica Ranch Repair Job
Friday, bright and early we will be working on raising up the Kempner Main tower at Our Friends 2 another 20 feet and bolstering the up-link connection to Kempner North.  This will drastically improve speeds to Chica Ranch and surrounding customers.  Additionally we will be installing the beefy park wide WiFi system just like at our Friends 1 at our Friends 2 at the same time.  If our field team has time and there are any re-points/fine tunes/repairs with in a 5 km radius of the repeater, the teams will be addressing those customers on Friday.
Burnet Main Re-Structure
On Sat. Sep 21st we will be stripping ALL cables off Burnet Main and most of the access points and changing them out for brand new fresh replacements.  Additionally we will be beefing up the tower's lightning protection system as well as installing a server rack with some specialized web caching and cloud servers to help speed up load times and commonly used and shared internet files, such as that latest release of Stranger Things on Netflix.  We are also installing heavy duty lines on the tower to ensure a longer lasting and more stable circuit for everyone since Burnet Main is one of our main distribution towers. (Meaning it connects to at least 3 other repeaters, is directly connected to a fiber-fed tap point, and house's private circuit links)
7 Creeks / Equrina
We are working as fast and as hard as we can to get 7 Creeks working correctly again.  Monday , September 15th, we will be replacing the 7 Creeks backbone link with a brand new pair which should resolve the slow speed issues.  Once the Burnet Main Re-Structure is completed though, we will be placing brand new gigabit backbone radios to both 7 Creeks and Equrina which will allow those sites to run at the same power packed speed as Burnet Main and allow for much more stable connections way out there.  We will also be activating the 7 Creeks B repeater this month at some point as well.
Briggs Repeater & Fiber DMARC
Tuesday, September 17th we will be installing the Briggs repeater & Fiber DMARC point.  This opens up a lot of new area for Hyper Fusion so spread the word.  Briggs installs however won't be happening until mid-November due to the amount of worked we're backed up with.  This repeater should go up nice and fast however, because its just getting an an omni repeater on it so, radio installation will be nice and easy.   Good for connections up to 15 km.   This repeater site will eventually connect to Liberty Hill where we will add our 3rd fiber provider into our network when the time comes.
Burnet East / 29 East
Everyone that has been waiting for Burnet East and 29 East (10 km east of Burnet on Highway 29) these 2 repeaters we're going to build at the same time the first week of October, however, other than the existing customers that require these towers to get service, new customers of these locations will have to wait until mid-December to get installed.  Again, we are just that backed up with new service requests.
Lampasas / Nix
This week as we get all of the other above work done, we will be taking some scans and surveys of the Lampasas area.  We have a couple options from building out Nix and tapping our Lometa fiber, or tapping our Key Ave fiber and building a new repeater site there.  We could also increase the height of Lampasas East and accomplish the same thing there.  Over the course of this week we will be doing some more surveying to determine the quickest course of action to strengthen up speeds in those areas to get everyone's needs satisfied.  We ask that you bear with us as we get some radios swapped out, and we need to do some work on Lampasas West to get that beefed up, including a new backbone gigabit radio to really beef up that site.
Cottonwood Mesa
We will be working on building out our Cottonwood Mesa repeater and hope to have it fully up and operationally before the month is out.  However, we've run into a few snags with the sub-division managers and some issues we are working together to resolve.  We hope the matter won't take too long and we can start installing internet for those folks before the month is out.
Thank you Again for your continued patience!
Your Hyper Fusion Team