So, just so everyone knows, woke to this lovely today.  They found a van bomb in Tennessee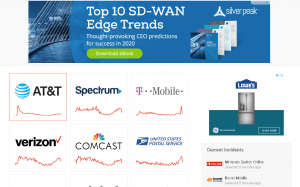 .  As you can also see from today's downtector reports, AT & T, Spectrum, T-Mobile, Verizon, and Comcast are all having major issues today.   Guess whose not?  Hyper Fusion.  Why?  Because we use completely varied gateway peers, none of which are any of the ones list above.   Because Hyper Fusion made the investment in this practice from its inception, and none of the other local rural providers have, we will always remain a step ahead, and will always be the first to get the newer faster stuff as a result.
Hyper Fusion remains committed to delivering the BEST connectivity at the most reasonable price, and as our reputation and hard work has showed, we also now have the best Subscriber Care to a degree as you can see in our footer, that we are a RECENTLY award winning provider in the Greater Highland Lakes area and voted BY THE PEOPLE not us.
https://www.tennessean.com/story/news/local/2020/12/25/att-outage-internet-down-hours-after-nashville-explosion/4045278001/
And another suspicious TV in Cincinnati
It's also hitting T-Mobile services
https://istheservicedown.com/problems/t-mobile/4508722-cincinnati-hamilton-county-ohio-united-states