We are pleased to announce the completion of our newest repeater site, Equrina Fields. It is a 160 foot Rohn Guyed tower located just west of Lake Victor. This tower is instrumental in linking our Burnet and Kempner Markets gateway sites. It will also massively upgrade our overall available capacity. We have deployed 2 pairs of FCC licensed, full duplex gigabit point to point wireless transceivers for unmatched speed and reliability. This marks for the 4th spectrum purchase that Hyper Fusion has made over the last year. We are the ONLY provider in our class to own a licensed spectrum.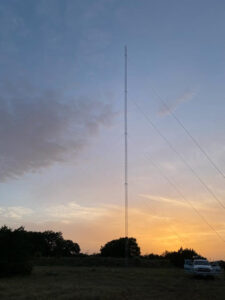 Unlike any other provider, we are multi-honed, and have a truly diverse network uplink. We are a truly autonomous network and our own provider. Hyper Fusion does not resell an overused fiberline like most competitors in our area.
4 years ago Hyper Fusion made a promise ( check it out the news link by CLICKING HERE ) to bring modern broadband to the Greater Highland Lakes area.  We wanted to force the incumbent big box providers to improve their networks. Our promise resulted in the overall community having more internet options to choose from. Despite the competition in the area, Hyper Fusion is the only company who continues to bring true broadband speeds to the Hill Country. Nobody does it like us. We are the one, the only, the original Hyper Fusion.
Click on the pictures below to enlarge them.  It's a really sharp looking tower.  The strongest and truest to date.  We're getting REALLY good at getting these tower up.  But, as it where, as we go thru updates and time moves on, new standards are adopted.   We are switching to a strict 30 meter steel mono pole design which are all around just a lot more sturdy and more inline with Hyper Fusion's deployment methods.