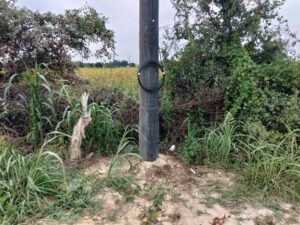 So we have been working tirelessly to build a MUCH bigger, and broader Fusion Fiber Delivery Network.  Thru the course of de-bugging a new line we installed out in Williamson County north of Liberty Hill, our Marble Falls fiber tap point FINALLY officially lit up and we got a full 10 gig speed test off our fiber between Burnet and Marble Falls!!  Fusion Fiber and Hyper Fusion have FINALLY arrived in South Burnet County.  It was a tough build, but well worth it.
With this new fiber tap point located at the 71 and 281 intersection opposite corner from the hospital we will be splitting off a fiber, 1 each for Marble Falls, Horseshoe Bay, Granite Shoals, Spicewood, Round Mountain, and Johnson City.  We have all of our Right of Way, Utility, Electric, and all FCC permits FINALLY in order, up to date and all licenses paid.  We have also secured several repeater sites thru out Southern Burnet County, including smack in the middle of Horseshoe Bay, Granite Shoals, and Spicewood.  We'll be working our way over to Bee Caves with our Fusion Fiber product.  Everyone seems to love that fiber.  We've got more and more Fusion Fiber subscribers coming online and our 2nd all Fusion Fiber exclusive neighborhoods well under way, and just finishing up so we can make a HEAVY focus on fully expanding all over Southern Burnet County.
As you can see from the photo on the left ( click it to blow it up ), Hyper Fusion purchases and installs its OWN privately owned utility poles and various Fiber Runs.  We have our tap point all live, tested out, and ready to go.  We just have to install a few equipment enclosures to spin off fiber and she's good to go.   This tap point will feed a total of 11 fixed point wireless repeater sites, 9 of which we have secured and will be starting construction on over the next 5 months thru the rest of 2021.  During that time certain areas will slowly come online so we're putting out the word everywhere.  With the addition of these sites there will not be a SINGLE area of Burnet County that we can not provide solid 100 Mbps + service to thru our fixed point wireless service, up to 1 Gbps on our Fusion Fiber for Residential service and up to 5 Gbps on our Enterprise Fiber service.  We have invested heavily in our upstream peering contracts and are the ONLY rural provider in our class to offer IPv4 AND IPv6 addressing ( over 8,000 IPv's in our ARIN owned pool ).  We are also the only one to actively engage in BGP and internet routing.  We host many subscriber domains ( websites & mail servers ) and our nano-pod Edge data centers continue to grow with new local business tenants looking to sure up their IT infrastructure.
It costs ABSOLUTELY nothing to get on our waiting list.  The more people you get around you to sign up, the better chance we'll have of installing to your neighborhood first, so check out our internet page at ( https://www.hyperfusiontech.com/internet ) review our plans, and then visit our signup page at ( https://www.hyperfusiontech.com/signup ).  For too long the incumbent rural providers in that area have enjoyed over charging for service that can rarely even exceed 10 Mbps in service.  Our plans START at 20 Mbps for $47 with NO CONTRACTS.  Remember, if your service requires a contract, its because they have an inferior service and are worried about losing you with in that time frame.  Just the way it is. Hyper Fusion IS the new Gold Standard in rural internet in the Greater Highland Lakes area.
IF YOU HAVE A QUALIFYING EXISTING FIXED POINT WIRELESS CIRCUIT ALREADY, RECEIVED UP TO A $200 CREDIT ON YOUR ACCOUNT AFTER ACTIVATION IS COMPLETED!
Waiting For Starlink?
Are you holding out for Starlink?  So sorry to burst your bubble folks, but you really gotta do your fine research.  They are locked up in some heavy investigations now over their $150 pre-orders.  Hundreds of folks are complaining about not getting them after years.  They have multiple complaints filed against them for violating their orbital paths in addition to botched satellite launches.  Multiple other companies and agencies are lodging complaints against them, not to mention that's just the ADMINISTRATIVE issues they have been having.  Their technical limitations are much worse.  For starters, due to the way the orbits work, IT DOES NOT WORK SOUTH OF NEBRASKA!  lol.  That means NO ONE IN TEXAS WILL EVER GET STAR LINK.  Not to mention thousands of people are reporting that if the dish hits any higher than 98 degrees it over heats and shuts down because inside the entire span of that dish are circuit boards.  Messages boards are a great resource to get real information and videos of people attempting to use the 100 or so units that are actually out.  All these posts that are put out and speed tests are FROM STARLINK STAFF, and that's what they are getting in trouble for.  Falsely misleading people.  It also comes with a FIXED 100 foot cable, so if you put it on your roof, your router has to be with in 100 feet.  And lets face it you people with big rich houses in Horse Shoe bay, your routers are ALL more than 100 feet from the top of your roof.  Plus, there's no one to install it for you, they are 100% self install only.  So you yourself gotta figure it out with little to no help from anyone.  Not so with Hyper Fusion, we do all the work for you.  Just that simple.  Not to mention, ITS STILL SATELLITE which means latency will NEVER be as good as even fixed point wireless or just about any hardlined service.
The Hyper Fusion Fixed Point Wireless Difference
What makes Hyper Fusion so much better than the other local fixed point wireless providers?  Simple, we have Gen6 SUBSCRIBER end point stations that operate outside the 2.4GHz or 5GHz spectrum, which is where all other fixed point wireless providers in this area as well as home wifi routers operate in for 100% guaranteed interference free and 300 Mbps + real wireless transmission speeds up to 5km without  dropping out during the rain?  How?  Because Hyper Fusion was founded by radio frequency engineering experts, unlike all the other local providers, founded, and operated by business people who use outside contractors to set up their network and wireless networks, where as Hyper Fusion does it ALL in house using our expert engineering team.