New 10 Gbps Direct Fiber Linked Repeater Site Launched
Hyper Fusion is pleased to announce the completion of our Andice repeater site.  Located just a couple km outside of town to the west.  This site is directly linked with a 10 Gbps fiber line from that site ALLL the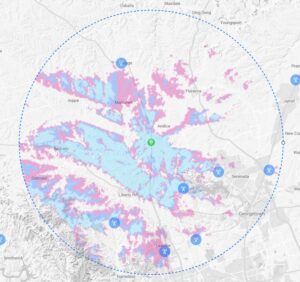 way back to our brand new Burnet Gateway site where we've installed an all 10 Gbps router which is a massive upgrade, capable of delivering up to 40 Gbps of throughput out to the internet if we need it!  Below is a coverage map of our new Andice site and if we use our long range power dishes ( approx 400mm in radius and weight about 2 pounds ) we can pull 100 Mbps down and upload as far away as 25km from the site in most cases.  In a few cases even further.  Just click on the map below to view a high res version.
We also complete upgraded our Burnet Gateway site and constructed it right off the right of way south of Burnet, TX.  This new site boasts all brand new heavy duty high thru put enterprise gear and is also independent but directly connected to the new Hyper Fusion DataCenter.  We lease the office space but we have an enterprise grade server room, power wiring, data cabling, and fiber, all to notch for an insane amount of reliability.
Additionally, we were simultaneously working with one of our upstream peer providers to run a direct fiber link between our Burnet and Kempner gateway router sites so we have direct 10 / 40 / 100 Gbps link between our 2 networks allowing all subscribers to use either gateway should one or the other be down, and next time we go to screw with one of our gateway sites, we can first shift the traffic to the other fiber and then shut down the gateway site we're working on so no one loses service!
With us drilling more fiber and for longer and longer distances, Hyper Fusion now provides live service to 5 central Texas Counties ( Burnet, Lampasas, Llano, Bell, and now with this new site, Williamson County ) and we have 22 repeater sites, some direct fiber linked, some linked with high end gigabit licensed by the FCC wireless links, and others linked in ways I can't really discuss as they are trade secret and what sets us apart.  We really are THE BEST internet provider in the area with the most diverse stable network. =)
Check out some of the pictures in the gallery below of the Hyper Fusion team working on the upgrade!
The below photos are mostly of the construction of our Burnet Gateway site that feeds the Andice site.