12 Mar
by Hyper Fusion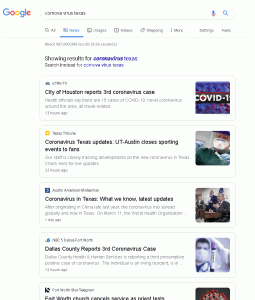 As the Corona Virus spreads more thru out the U.S., the time for Hyper Fusion to act I'm afraid has come.  Since Hyper Fusion is an internet provider, our field staff are constantly going in and out of many different folks homes.  Many of these homes are vacation homes where folks come in from Austin, San Antonio and Dallas.  With the virus now more rapidly spreading and our #1 interest is the health and safety of our customers, we will be making the following adjustments in what we do in order to reduce the chances of transmission as much as possible.
President Trump as recommended that all people who travel self quarantine.  We know this may sound extreme but its alot better than the alternative.  As many of you know from our last post, where coming up on a major storm over the next 10 days.  Since we already have toned down work, we are going a little further with our procedures for the rest of March.  What does that mean for our existing Hyper Fusion customers and our future ones?
1. Our field team will NOT be entering any homes or any other structure.  Our field team goes in and out of many buildings and this just increases the chances of transmission of the virus.  Hyper Fusion is not equipped with level 5 bio-hazard gear in order to prevent moving the virus from 1 customer to another.
2. Any existing customers whose radios move, we will be conducting repairs and fine tunes, but we ask that you implicitly remain in your home while this service is conducted to minimize transmission risk.
3. New customers requesting service will NOT be able to be installed until sometime next month due to all the complications the weather and the virus have caused, although exceptions maybe made for critical business or government circuits.
4. If you had a pending appointment, install, un-install, service transfer, or any other request, it may now be delayed by weeks.  We ask that anyone with questions, comments, or concerns email support@hyperfusiontech.com  with a short subject in the subject line and then your request in the main part of the email.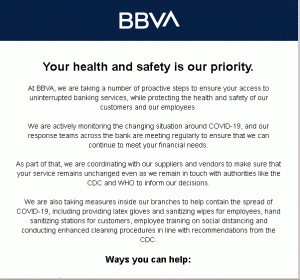 As you can see, even our bank released a notice to all their customers regarding their efforts with this growing epidemic.  Hyper Fusion remains committed to its customers and will continue to do everything possible to keep our customers safe, informed, and we will do everything in our power not to let this epidemic effect continuity of our network connectivity and other services we may provide.
Customer support during this time may be delayed and we ask everyone to bear with us while we work thru it.  Additionally, we will be putting all jobs back in our queue, this is the opportune moment to "reset" our field jobs to make sure everyone gets helped appropriately.
We will keep everyone in our thoughts and still remain mindful of everything going on with the situation and our managers will be monitoring the situation daily.  For current customers, we will still pass on all information as we get it within our Slack workspace on our breaking news channel and keep our every growing network of customers, local business owners, and other local officials to keep everyone as informed as possible.
Thanks,
The Hyper Fusion Team