Building Cassie
We of course started building Cassie and completed a month ago.  However, unlike most small WISP's and rural providers, Hyper Fusion takes a while to test and properly tune and configure our repeater sites to ensure the kind speeds we're getting as posted below.  Hyper Fusion take a lot of pride and being the best, fastest, most reliable, service with the best customer care out there.  This is why we take more time then most to start allowing subscriber connections to our repeater sites, as we like to ensure that they will never have any issues and EVERY one of our circuits runs at 100 Mbps download and upload all the time with less than 20ms of ping time out to the internet.
Speeds at Cassie
What kind of speeds can one expect out on the east side of the lake in the Cassie sub-division?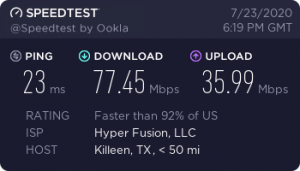 This is a genuine speed test off our internet as you can see, taken at 6:19pm right in the middle of peak usage hours, and crazy 23ms ping time.  As you can see, by Speedtest.NET's own measurement, compared with all fiber, cable modem, all kinds of speed test all over the US, Hyper Fusion is faster than 92% of the US.  There is no other rural provider in Burnet, Lampasas, Llano, Williamson, or Bell counties that can compare to these sorta speeds during peak times.  Our Mega 75 plan is awfully popular with those gamers, and now Cassie, you can enjoy incredible speeds as well!